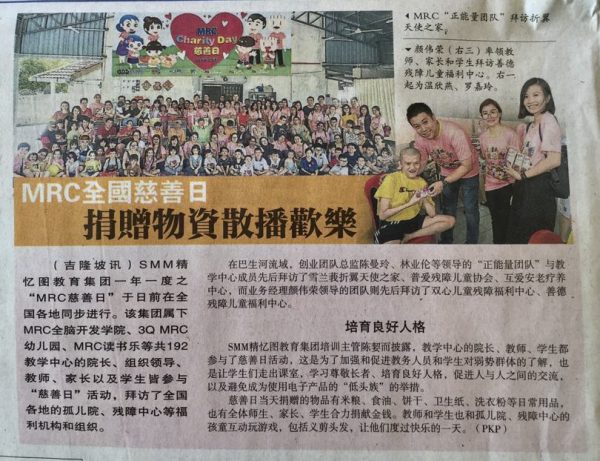 MRC 全国慈善会 捐赠物资散播欢乐 (吉隆玻讯)SMM精忆图教育集团一年一度之"MRC慈善日"于日前在全国各地同步进行。该集团属下MRC全脑开发学院,3Q MRC幼儿园,MRC读书乐等共192教学中心的院长,组织领导,教师,家长以及学生皆参与"慈善日"活动,拜访了全国各地的孤儿院,残障中心等福利机构和组织。 在巴生河流域,创业团队总监陈曼玲,林业伦等领导的"正能量团队"与教学中心成员先后拜访了雪兰莪折翼天使之家,普爱残障儿童协会,互爱安老疗养中心,而业务经理颜伟荣领导的团队则先后拜访了双心儿童残障福利中心,善德残障儿童福利中心。
培育良好人格
SMM精忆图教育集团培训主管陈㛃而披露,教学中心的院长,教师,学生都参与了慈善日活动,这是为了加强和促进人与人之间的交流,以及避免成为使用电子产品的"低头族"的举措。 慈善日当天捐赠的物品有米粮,食油,饼干,卫生纸,洗衣粉等日常用品,也有全体师生,家长,学生合理捐献金钱。教师和学生也和孤儿院,残障中心的孩童互动玩游戏,包括义剪头发,让他们度过快乐的一天。
National MRC Charity's Day Donated materials to spread joy
(Kuala Lumpur) SMM Whole Brain Education Group's annual "MRC Charity's Day" was held simultaneously throughout all country in Malaysia. MRC Whole Brain Development Institute, 3Q MRC Kindergarten, MRC JSP and other 192 teaching center's dean, organization leaders, teachers, parents and students participated in the "Charity Day" activities, visited orphanages across the country, Welfare institutions and organizations such as disability centers. Director of the Entrepreneurship Team in the Klang Valley Chan Mew Leng, Reich Lim and other leaders of the "Positive Energy Team" and the members of the teaching center visited the Pertubuhan Kebanjikan Rasa Sayang Selangor, the Puppet Disabled Children's Association, and the Love and Elder Care Center. The team led by the business manager Yan Weirong visited the children with disabilities. Welfare Center, Shande Disabled Children Welfare Center.
Cultivate good personality
According to Kiko Chan, the training director of SMM Whole Brain Education Group, the dean, teachers and students of the teaching center participated in the charity day, in order to strengthen and promote the communication between people and avoid becoming addictive electronic products initiative. On the day of Charity Day, donated items include rice, cooking oil, biscuits, toilet paper, washing powder and other daily necessities. There are also teachers, students, parents and students who donate money reasonably. Teachers and students also interact with children in orphanages and disability centers, including cutting hair and letting them have a happy day.