SMM精忆图教育集团MRC慈善日
07 Mar 2019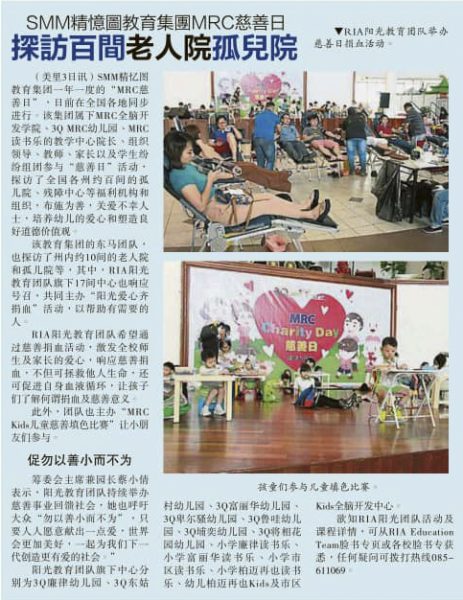 SMM精忆图教育集团MRC慈善日 探访百间老人院孤儿院 (美里3日讯)SMM精忆图教育集团一年一度的"MRC慈善日",目前在全国各地同步进行。该集团属下MRC全脑开发学院,3Q MRC幼儿园,MRC读书乐的教学中心院长,组织,领导,教师,家长以及学生纷纷组团参与"慈善日"活动,探访了全国各州约百间的孤儿院,残障中心等福利机构和组织,布莲为善,关爱不幸人士,培养幼儿的爱心和塑造良好道德价值观。 该教育集团的东马团队,也探访了周内约10间的老人院和孤儿院,其中,RIA阳光教育团队旗下17间中心也响应号召,共同主办"阳光爱心齐捐血"活动,以帮助有需要的人。 RIA阳光教育团队希望通过慈善捐血活动,激发全校师生及家长的爱心,响应慈善捐血,不但课可以拯救他人的生命,还可以促进自身血液循环,让孩子门了解何谓捐血及慈善意义。 此外,团队也主板"MRC Kids儿童慈善填色比赛"让小朋友们参与。
促勿以善小而不为
筹委会主席兼院长蔡小倩表示,阳光教育团队继续举办慈善事业回馈社会,她也呼吁大众"勿以善小而不为",只要人人愿意献出一点爱,世界会更加美好,一起为我们下一代创造更有爱的社会" 阳光教育团队旗下中心分别3Q廉律幼儿园,3Q东站村幼儿园,3Q富丽华幼儿园,3Q卑尔幼儿园,3Q鲁哇幼儿园,3Q埔奕幼儿园,3Q将相花园幼儿园,小学廉律读书乐,小学富丽华读书乐,小学市区读书乐,小学柏迈再也读书乐,幼儿柏迈再也Kids及市区Kids全脑开发中心。 欲知RIA阳光团队活动及课程详情,可从RIA Education Team脸书专页或各校脸书专获悉,任何疑问可拨打热线052-611069。
SMM Whole Brain Education Group MRC CharityVisiting 100 orphanages
(Miri 3rd March) SMM Whole Brain Education Group's annual "MRC Charity Day" is currently being held simultaneously across the country in Malaysia. MRC Whole Brain Development Institute, 3Q MRC Kindergarten, MRC JSP's Dean, organization, leadership, teachers, parents and students have participated in the "Charity Day" activities and visited about 100 orphans in all states of the country, Welfare institutions and organizations such as disability centers, caring for the unfortunate, fostering the love of young children and shaping good moral values.The East Malaysia team of the Education Group also visited about 10 elderly homes and orphanages in the week. Among them, 17 centers of the RIA Sunshine Education Team also responded to the call to jointly host the "Sunshine Love Heart Donation" campaign to help the person in need. RIA Sunshine Education Team hopes to stimulate the love of teachers, students and parents through charitable blood donation activities, respond to charity donation, not only can save the lives of others, but also promote their own blood circulation, let the children know what blood donation and charity. In addition, the team also hosted the "MRC Kids Children's Charity Coloring Game" to involve the children.
Start with small thing to become bigger
The Chairman and Dean of the Preparatory Committee, Chai Siaw Chian, said that the Sunshine Education team continued to organize charitable causes to give back to the society. She also appealed to the public to "do not be good or small," as long as everyone is willing to give a little love, the world will be better and together. Our next generation creates a more loving society" Sunshine Education Team's center is 3Q Riam Kindergarten, 3Q East Station Village Kindergarten, 3Q Furama Kindergarten, 3Q Lambir Kindergarten, 3Q Luak Kindergarten, 3Q Pujuk Kindergarten, 3Q Garden Kindergarten, Elementary School LLP, Primary School Furama Book Music, primary school urban music, primary school Permy Jaya, music, children's Permy Jaya JSP and the city's Kids Whole Brain Development Center. For more information on RIA Sunshine team activities and courses, you can learn from the RIA Education Team Facebook page or each school face book. For any questions, please call the hotline at 052-611069.