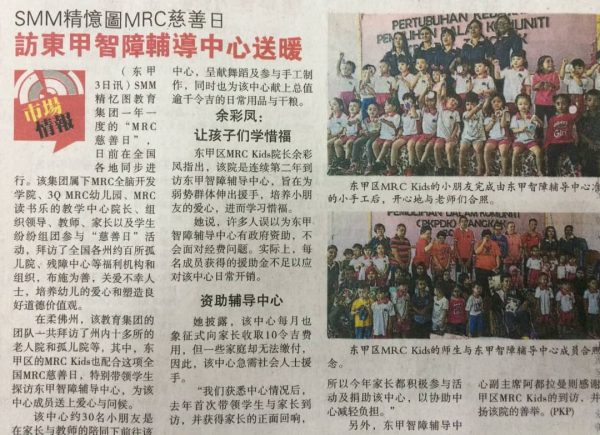 SMM精忆图MRC慈善日 访东甲智障辅导中心送暖 (东甲3日讯)SMM精忆图教育集团一年一度的"MRC慈善日"目前在全国各地同步进行。该集团属下MRC全脑开发学院,3Q MRC幼儿园,MRC读书乐的教学中心院长,组织领队,教师,家长以及学生纷纷组团参与"慈善日"活动,拜访了全国各州约百所孤儿院,残障中心等福利机构和组织,布施为善,关爱不幸人士,培养幼儿的爱心和塑造良好道德价值观。 在柔佛州,该教育集团的团队一共拜访了州内十多所得老人院和孤儿院等,其中,东甲区得MRC Kids也配合这项全国MRC慈善日,特别带领学生探访东甲智障辅导中心,为该中心成员送上爱心与问候。 该中心约30名小朋友是在家长与教师得陪同下前往该中心,呈献舞蹈及参与手工制作,同事也为该中心线上总值逾千令吉得日常用品与干粮。
余彩凤:让孩子门学惜福
东甲区MRC Kids院长余彩凤指出,该院是连续第二年到访东甲智障辅助中心,皆在为弱势群体伸出援手,培养小朋友得爱心,进而学习惜福。 她说,许多人误以为东甲智障辅助中心有政府资助,不会面对经费问题。实际上,每名成员获得得援助金不足以应对该中心日常开销。
资助辅导中心
她披露,该中心每月也象征式向家长收取10令吉费用,但一些加听却无法缴付,因此,该中心急需社会人士援手。 "我们获悉中心情况后,去年首次带领学生与家长到访,并获得家长得正面回响,所以今年家长都积极参与活动及捐助该中心,以协助中心减轻负担。" 另外,东甲智障辅导中心副主席阿都拉曼则感谢东甲区MRC Kids的到访,并播扬该院的善举。
SMM Whole Brain MRC Charity's DayVisit Tangkak Mentally Handicapped Center for warming
(Tangkak 3rd March)SMM Whole Brain Education Group's annual "MRC Charity Day" is currently being held simultaneously across the country in Malaysia. The group's MRC Whole Brain Development Institute, 3Q MRC Kindergarten, MRC JSP's Dean, organization leader, teachers, parents and students have participated in the "Charity Day" activities and visited about 100 orphanages across the country. Welfare institutions and organizations such as the Disability Center are dedicated to caring for the unfortunate, fostering the love of young children and shaping good moral values. In Johor, the education group's team visited a total of more than a dozen elderly homes and orphanages in the state. Among them, MRC Kids in Tangkak District also cooperated with the National MRC Charity Day to lead students to visit the Tangkak Mentally Retarded Counseling Center, to send love and greetings to the members of the center. About 30 children from the center were accompanied by parents and teachers to the center to present dances and participate in hand-made production. Colleagues also provided daily supplies and dry foods worth more than RM1,000.
Yee Chai Fong: Let the children learn to bless
Yee Chai Fong, director of MRC Kids in Tangkak District, pointed out that the hospital visited the Tangkak Mentally Retarded Aid Center for the second consecutive year. They all lend a helping hand to the disadvantaged groups, cultivate children's love, and then learn to be blessed. She said that many people mistakenly believe that the Tangkak Mentally Retarded Assistance Center has government funding and will not face financial problems. In fact, each member receives insufficient assistance to cover the daily expenses of the center.
Funding counseling center
She said that the center also charges parents a fee of RM10 per month, but some of them are unable to pay. Therefore, the center urgently needs help from the community. "After learning about the situation in the center, we first led students and parents to visit and received positive feedback from parents last year. Therefore, parents have actively participated in the event and donated to the center this year to help the center reduce the burden." In addition, Abdul Rahman, the vice chairman of the Tangkak Mentally Retarded Counseling Center, thanked MRC Kids in the Tangkak District for their visit and publicized the charity of the hospital.